@COM Management interface
@COM Management Software is a PC application that is specially suited for management purposes. The application provides a clear Windows graphical user interface for data entry. The platform can be managed simply through the user-friendly management software.
How does it work?
@COM systems for office telephony can be installed, used and maintained in just a few moments. Administrators can use one @COM web management interface for call routing, extension management, voicemail, e-mail and Internet. Because @COM Business Manager is based on open industry standards, corporations and institutions can implement and maintain these standards more easily.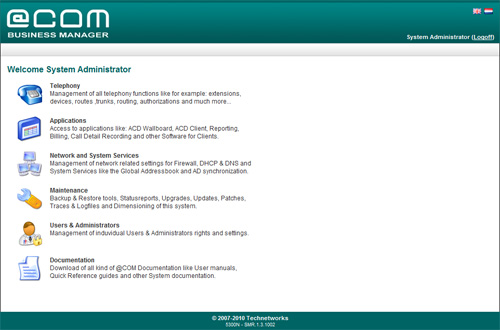 Just a couple of system management functions:
Name of station or device
DID number assignment
Hunt group programming
Corporate directory and speed dials
Call Distribution List management
Automated Attendant management
Automatic Call Distribution management
Authorizations
Least Cost Routing
Network interface configuration
Firewall, DHCP, DNS, TFTP configuration
Intrusion Detection System (IDS)
Pre-/Post-paid billing system
Call Detail Reporting