The @COM Business Manager IP-PBX
@COM Business Manager is a complete all-in-one IP telephony system installed on robust server platforms designed specially for communication purposes. A customized and optimized bundle of Asterisk open source application software is supplied, making it possible to offer a high-quality, integrated communication solution.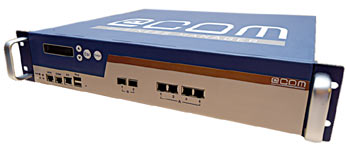 Every @COM Business Manager is equipped with common telephony capabilities. These can be extended to include licenses for voicemail, automatic operator menus with an unrestricted number of levels, Automatic Call Distribution (ACD) and call traffic registration, Multi-site capabilities, integrated CSTA III support and the possibility to use the professional operator station PeterConnects Attendant. Additionally, the systems have intuitive and user-friendly system management software, allowing the system to be administered locally or remotely.
The @COM Business Manager has proven to be reliable, flexible, easy to setup and maintain.
Key benefits are:
Scalable communication platform up to 5000 devices
No Linux nor Asterisk knowledge required!
Easy Installation and integration in existing environments
Many extra options available like Automated Attendant, Voicemail, ACD groups
Multi site - single management interface
Call center solutions are available too
Extensive reporting options
Full integration with the enterprise grade PC Operator; the

PeterConnects

attendant system
Flexibility through customization
The @COM Business Manager is an Asterisk PBX® based system and allows you to add your own Asterisk dial plan to a standardized system using "custom-scripts". This allows you to customize the system to your needs but without the drawback of having a 'special' system that needs special maintenance needs. And if needed our developers can create custom software to your own needs.
Integrated AsteriskConnect and PeterConnect Attendant
The @COM Business Manager is pre-fitted with the AsteriskConnect middleware enabling connections with enterprise grade business applications as the PeterConnects Attendant but also any other CSTA based application.
For more information check the website for the @COM Business Manager