The new AsteriskConnect v3 is now available
We are proud to announce the new release of the AsteriskConnect v3.
This new release supports Asterisk 12 with backwards compatibility down to Asterisk v1.4,
but also many more features such as;

Support for Asterisk 1.4 up to Asterisk 12


(On Asterisk 12 the new PJSIP channel is NOT supported yet!)

Support for IAX2 channels
Support for Call Parking
Support for Asterisk Transfer
Auto-Reload detection
Auto-Configuration file reload

(no need to restart the software)

Support for sending Diverted-events for call deflect and call pickup
This new release is now available for download, just click here to request your trial version.
For pricing information and more technical information see our AsteriskConnect webpage by clicking here.

Upcoming event: Release of the new PeterConnects Attendant v7 for Asterisk
​We also like to announce the new v7 release of the PeterConnect Attendant software for Asterisk.
This is one of the most powerful PC operator stations available for Asterisk-based PBX systems.
The existing PeterConnect Attendant v6 was already very powerful,
but this new release offers an improved user-interface, touch-screen support and Windows 64 bit system support.
It also integrates some new features like a visitor registration and integration with access-control systems.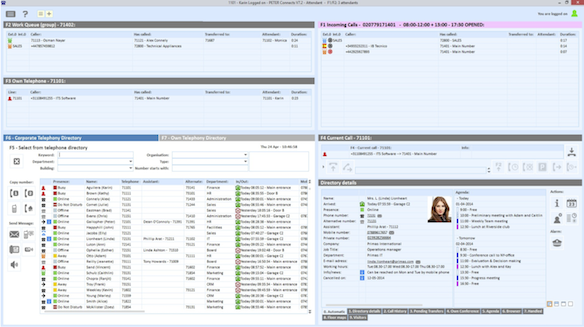 Click on image for a more detailed view.
More information about the PeterConnect Attendant can be found by clicking on this link.

12 June, 2014 - 10:00 — Development team